ACE Speed Lab
Invest a few hours, find a few seconds
Snapshot of ACE Speed Lab
$100-million research and testing facility at your fingertips.
Aerodynamic and thermodynamic testing services.
Available and accessible to all levels of racers.
Aerodynamics and thermodynamics specialists at your disposal.
Climatic wind tunnel quick facts
Wind speeds up to 270 kph (167 mph).
Only yawing chassis dynamometer in North America allowing crosswind testing under full load.
Temperatures ranging from -40˚C to 60˚C (-40˚F to 140˚F).
Relative humidity ranging from five per cent to 95 per cent.
Full-spectrum solar loading and precipitation, simulating any conditions on earth.
High-security testing facility.
---
Thermodynamics: Test offerings

Optimize airflow with thermodynamics.
Our goal: Optimize airflow into your engine compartment, radiator and brakes to improve thermal management. Ensure more energy is utilized in vehicle power while less lost in heat, improving your engine horsepower.
Aero-thermal management
Optimize under-hood engine temperatures by managing air flow through the radiator and into the engine compartment.
Conduct engine thermal management tests to see the difference between drafting, leading and pulling out to pass.
Benefits:
Ensures your vehicle doesn't overheat while drafting, and fully utilizes its power potential while overtaking and taking the lead.
More energy is utilized for power and not lost in heat, improving engine horsepower.
Duplicate race track temperatures 
Add radiant energy (solar simulation) and ACE's hot road technology to better simulate searing summer conditions, including hot asphalt, to recreate the climates of specific race tracks.
Benefits:
Prep and tune your vehicle for specific races in specific climates and tracks to give you a step up on the competition.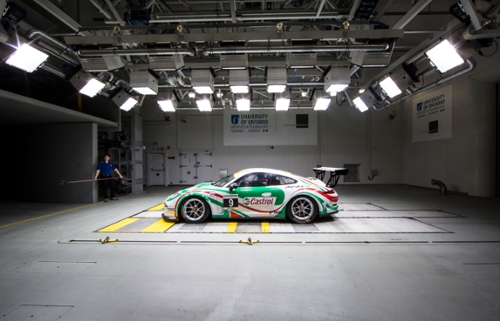 Brake management
Optimize competition forces on engine and brakes.
Instrument brake pads with thermocouples to test brake fade, allowing you to test and compare different breaking materials and components under different climatic conditions (temperature, humidity and rain).
Benefits: 
Improve braking performance for quicker cornering under all possible race conditions.
---
Aerodynamics: Test offerings

Drive faster! Wind tunnel testing for all.
Our goal: Provide affordable and accessible aerodynamic testing for motorsport teams of all levels. Find the optimal downforce and drag combinations to decrease your lap times.


Measure and optimize
Test the effects of chassis rake, wing angles, wickers, spoilers, splitter lengths, dive planes, tabs and canards at different settings, under different wind speeds.
Manage airflow in and out of passenger cabin to adjust pressure for optimum thermal management.
Benefits: 
Find the optimal setup for your vehicle to decrease lap times and increase cornering.
Find optimal setting combinations for specific tracks to have a competitive advantage.
Get better downforce, more lateral Gs, more corner speed, top speed and better lap times.
Utilize our experts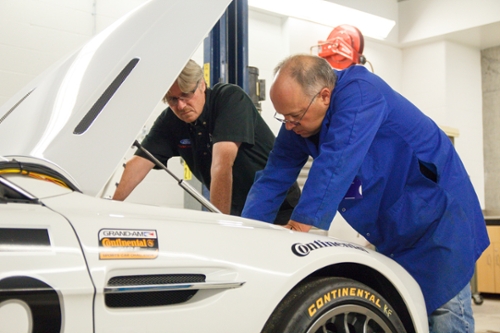 Unsure of how to optimize your aerodynamics or improve your thermodynamic efficiency? Utilize our team of experts to find the best, most balanced downforce and drag combinations for your car and higher performance through more efficient airflow.
Pre-test consultation and test plan development.
Present through testing to share expertise and make suggestions.
Post-test consultation and data explanation, recommendations and next steps.
Suspension 
Test and optimize your suspension system on your vehicle using ACE's four-poster shaker with climatic capabilities.
With our drive-on four-poster shaker, you can simulate the exact driving surface of any track to validate suspension and durability. The shaker features temperature and humidity control (-40 C to 60 C; five to 95 per cent relative humidity).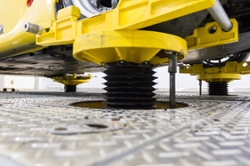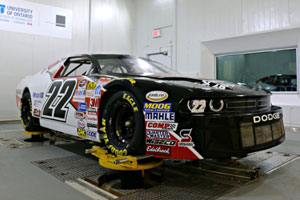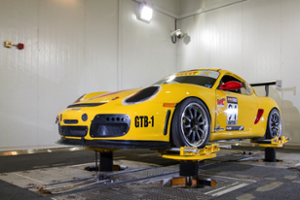 Innovative research
ACE Speed lab is a branch of the University of Ontario Institute of Technology. This enables the lab to excel in motorsport research. ACE collaborates with experts in aerodynamics, thermodynamics and computational fluid dynamics (CFD) on your research projects, keeping your race team at the forefront of technology.
We provide the most multi-faceted research and testing facility for your motorsport needs. Our climatic wind tunnel contains unique features such as a large yawing chassis dynamometer that can test properties in crosswinds. Our climatic chambers (with dynamometers inside), four-post suspension shaker and multi-axis shaker table are also available for your use.
Industry and academic collaborations at ACE provide opportunities to increase capital, as all money spent on research and development (R&D) at ACE has the potential to be multiplied through government funding programs. Our team of funding specialists will assist you with the preparation of your submissions to align you with the right people in the right agencies to acquire funding for your research and industry/academic collaborations. Collaborations will allow you to utilize some of Canada's brightest minds to make your motorsport research and development a success.
With our expertise, innovation and world-class facility, we will meet all your research needs.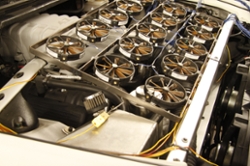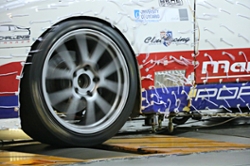 Motorsport partnerships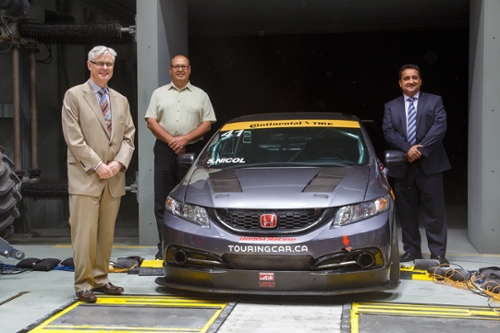 Canadian Touring Car Championship
The Canadian Touring Car Championship (CTCC), presented by Continental Tire, showcases race cars based on their original stock street version in three different classes. The entry-level Touring Class features cars with minimal engine modifications, while Super Touring Class machines have heavily modified engines and advanced aerodynamics. Grand Touring Class is for even higher-power sports cars.
All three classes compete at the same time on the track and challenge for supremacy in their class. CTCC was created in 2006 based on the growth of amateur touring car racing in Canada and the pent-up demand for a professional product.
ACE had a presence at CTCC races throughout the 2015 race season and will test and improve CTCC competitors' speed with its ACE Speed Lab services.
Canadian Motor Speedway
Canadian Motor Speedway (CMS) is a proposed $150 million racetrack. It will be Canada's first and only professional-class, three-quarter-mile banked oval track with an integrated road course that is a Jeff Gordon-design signature speedway. The proposed massive stadium in Fort Erie that will accompany the CMS track will have seating for 65,000 and host a variety of motorsports, including automobiles, motorcycles, karting, drifting, and various motorized and non-motorized public events. CMS will include ancillary construction for infrastructure, recreational, retail, commercial, light industrial, educational uses and an automotive/motorsports R&D Innovation Park, which will expand the build-out to $400 million.
ACE will be the official competition wind tunnel of CMS. The agreement will combine ACE Speed Lab services with race/track days at CMS and encourage motorsport research at ACE and CMS. It will also allow the University of Ontario Institute of Technology to access CMS research facilities and provide future educational opportunities for the university's Engineering and Applied Science students.