Kevin Carlucci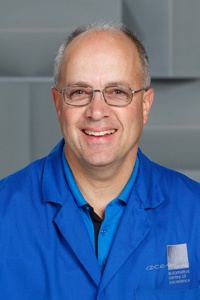 Garage Manager, Customer Support Specialist
Biography
As the Garage Manager and Customer Support Specialist, Kevin is responsible for building advanced engineering properties and the instrumentation of vehicles and prototype products prior to testing. He evaluates clients' needs before testing to help prepare and set up test products and provide alternative suggestions as required. During client testing, as the Technical Support Specialist, Kevin ensures there is continuous involvement with clients to ensure a successful testing period.
Kevin has 40 years of experience in current and advanced vehicle technology. He holds an Automotive and Truck Apprenticeship from Mohawk College and has a vehicle A/C certification. In his past work, Kevin has led destructive and non-destructive structural testing on powertrain and axle components at the General Motors Plant Test Laboratory in St. Catherines, Ontario. He has also led and trained technicians in the assembly and testing of Equinox hydrogen fuel-cell vehicles at General Motors Oshawa Engineering Centre. 
When he is not helping clients with their tests, he performs extensive maintenance on ACE equipment, ensuring it is up to industry standards and safety requirements. He also assists in the building of the new Moving Ground Plane systems at ACE.