Climatic Aerodynamic Wind Tunnel

The ACE Climatic Aerodynamic Wind Tunnel (CAWT) is one of the most sophisticated of its kind in the world. It is designed to provide a multitude of industries with world-class and independent testing capabilities to validate prototype products under a wide range of climatic conditions. Climatic simulation systems include solar capabilities, rain, freezing rain, light snow and blizzards - all with wind speeds capable of 300 km/h at temperatures ranging from -40˚C to +60˚C. The ACE CAWT is unique due to its seven to 14.5 m² variable nozzle, which enables testing of subjects ranging from very small to extremely large, in a wide variety of wind and climatic combinations.
Examples of tests conducted in the Climatic Aerodynamic Wind Tunnel include:
aerodynamic testing

heating, ventilation, and air conditioning (HVAC) testing in vehicles

physiological/cognitive tests (human trials)

product quality control

snow mitigation (architectural)

thermodynamic testing

wind turbines
Key features 
Adjustable nozzle (7to 13m2) and long test section to accommodate a wide range of vehicle sizes and types, from small cars to Class 8 trucks and buses, with wind speeds in excess of 240 kph.

Temperature from -40

˚

C to +60

˚

C and relative humidity (RH) from five per cent to 95 per cent.

Low background noise level (64 dBA at 50 kph) for the detection of vehicle drive-away anomalies such as misfires, transmission hesitation, etc.

Unique independently powered rolls chassis dynamometer in a turntable to enable crosswind testing.

Solar simulation system up to 1,100 W/m2 intensity with sunrise-sunset simulation capabilities.

Complete suite of ancillary systems for customer vehicle operation, including hydrogen and electric vehicle compatibility.
350 kW DC Fast Charger and Hot Road Soak Testing
ACE recently introduced the 350-kilowatt, 500-amp modular DC Fast Charger, which permits faster charging with the capability to operate in a temperature-controlled environment in three of its five chambers, the Climatic Aerodynamic Wind Tunnel, Large Climatic Chamber, and Small Climatic Chamber. As the future of the automotive industry progresses, ACE provides OEMs access to a world-class research facility that will actively assist in guiding this sector towards the development of electric vehicles.

Garage bays
Featured with the Climatic Aerodynamic Wind Tunnel is three high-secure garage bays that are available for use throughout testing. Garage bays come equipped with a hoist and tools and requires badged access for the highest level of secuirty and privacy. 

Specifications of the Climatic Aerodynamic Wind Tunnel
Test section dimensions: 
Overall dimensions

Length: 20.1 metres
Width: 13.5 metres
Height: 7.5 metres

Useable length

14.3 metres for cars and trucks
19.1 metres for trucks and buses

Vehicle entry clearance

Width: 3.93 metres
Height: 4.49 metres (Corner No.1 turning vane set open)

Adjustable nozzle

7 to 13.0 m

2

:

Height: 2.9 metres
Width: 2.4 to 4.5 metres

14.5 m

2

:

Height: 2.9 metres x 5 metres (slightly diverging)

Canopy for buses

22 m2:

Height: 4.4 meters
Width: 5 metres (used with 13 or 14.5 m

2

 nozzle)

Turntable diameter

11.7 metres

Boundary layer removal

Width: 5.25 metres main suction system
Provision for secondary suction

Vehicle exhaust extraction system

Dual or single exhaust pipes.
Open or closed mode with back pressure regulation.
Maximum flow rate: 0.62kg/second (8.5 litre, 400 horse-power engine).
Maximum inlet exhaust temperature: 650

o

C.

In-chamber fuelling

Station for regular, Reid vapour pressure (RVP) and diesel.
Plumbed in for hydrogen.

In-chamber power

Outlets for plug-in vehicles.
Wind speed and thermal performance: 
Full thermal control wind speed: 7 to 9.3 m2 nozzle settings.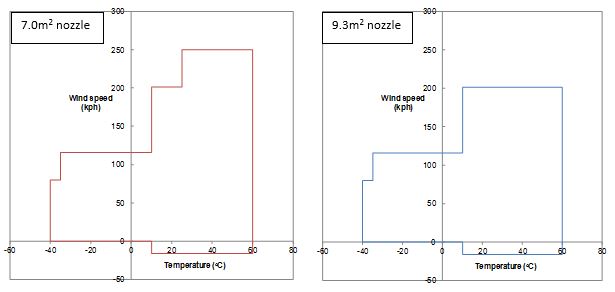 Increased maximum wind speed

: ambient conditions
| | | |
| --- | --- | --- |
| Nozzle (m2) | Wind speed (kph) | Temperature (oC) |
| 7.0 | 280 | 25 |
| 9.3 | 250 | 25 |
| 13.0 | 225 | 25 |
Humidity – temperature performance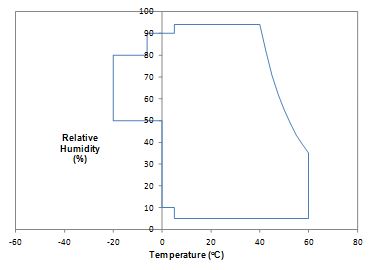 Cooling system
R507 primary loop with Dynalene HC-50 secondary loop.
Total heat capacity: 500 kW at -40

o

C , 2100 kW at ambient.
Thermal performance
Parameter

Set point change

Rate

Test condition

Temperature

<12°C

0.8°C/minute

70 to 105 kph; 32°C to 50°C

<6°C

0.6°C/minute

<115 kph

>6°C

0.08°C/min

<115 kph

Humidity

20% RH

1% RH/minute

38°C dry bulb

Flow quality 
| | | |
| --- | --- | --- |
| Parameter | Uniformity (σ) | Stability |
| Wind speed | 1% of set point | ±0.5 kph |
| Flow angularity | 0.5° | |
| Temperature | 0.3°C | ±0.2°C at velocity > 48 kph |
| Humidity | 0.5°C (dew point) | ±0.5°C (dew point) |
Boundary layer displacement thickness
δ* less than 5 mm at 0.9 m ahead of the front chassis dynamometer roll set at 90 kph, 25

o

C air temperature
Background noise level: 9.3 m2 nozzle
| | |
| --- | --- |
| Wind speed (kph) | Out-of-flow sound pressure level (SPL) (dBA) |
| 50 | 64 |
| 100 | 81 |
| 140 | 90 |
| 250 | 107 |
Chassis dynamometer specifications: 
Manufacturer and model

Burke E. Porter (custom design)

Vehicle types

Passenger car, light and medium duty trucks, buses

Axle configurations

front-wheel drive
rear-wheel drive
four-wheel drive
all-wheel drive (four independent rolls)

Roll width

812 mm (four identical)

Roll diameter

1219 mm (four identical)

Roll surface

Tungsten carbide, aggressive finish (0.8µ)

Clear space between rolls

1,067 mm (identical front and rear)

Wheelbase range

1,600 to 5,842 mm

Location of front fixed axle from nozzle exit plane (0o yaw)

3,000 mm

Location of rear fixed axle from nozzle exit plane (180o yaw)

9,200 mm

Normal maximum yaw angle range

±30o

Floor features

Automatic floor track and side roll cover system.
Moveable central inspection port with infrared camera.

Total inertial simulation range

907 to 9,072 kg

Maximum axle load

5,000 kg

Maximum vehicle weight

9,072 kg

Maximum speed

250 kph

Motor type

AC (vector drive duty)

Nominal maximum power

187 kW per roll, motoring and absorbing; 92 to 250 kph

Base speed

92 kph

Continuous tractive force rating

7,301 N per roll ; 0 to 92 kph

Tractive force overload

150 per cent for 60 seconds; 0 to 92 kph

Features

robot driver
customer specified drive cycles

Configuration

Elevator and air bearings permit removal from test section.
Solar simulation system specifications:
Full diurnal function with azimuth and altitude.
Full-spectrum capability with vertical and bi-axial movement.
Manufacturer

KHS Steuernagel

Target size

Length: 6.5 metres
Width: 2.5 metres
1.5 metres above test section floor

Intensity range

600 to 1,200 kW/m2

Intensity incidence

0 to 52.5o

Spectrum

ASTM Std E-892

Intensity quality

Uniformity ±10 per cent
Stability ±2 per cent

Lamps
Rain & snow simulation systems:
Rain simulation system
Frontal rain simulation system located at the nozzle exit.
Up to 12 nozzles of  various sizes as needed to provide adequate coverage of a given vehicle.
Designed for 150 kph at 20°C but will operate as low as -5°C to perform freezing rain tests.
Snow simulation systems
There are two possible snow simulation configurations: frontal (blizzard) and overhead. In both cases, snow guns are used to create the snow.
Ancillary equipment:
Vehicle starting power

200 amp 12 vDC and 24 vDC

Pressure radiator fill

System capable of charging from a pressurized vessel.

Gas tank and differential cooling

Cooling water system to provide cooling during high-load tests.

Refrigerant charging system

Two charging systems: one for R134A or equivalent; the other for alternative refrigerants.
Capability to pull a vacuum once refrigerant has been reclaimed.
Frequently asked questions