Large Climatic Chamber
This chamber is unique due to its exceptionally long test section, which accommodates vehicles as large as an articulated buses. It also contains a Mustang 1,000 horse-power chassis dynamometer and a solar array to simulate the sun. You also have the option of connecting to the small climate chamber through an inter-chamber door, which permits the insertion of a test bench to effect a 'three-chamber' mode that includes:
climatic wind tunnel

large climate chamber
small climate chamber
Sectors:
A vast number of sectors can utilize ACE's climatic chambers. Any product, component or idea that needs climatic validation or testing will find significant value in this chamber.
Testing examples:
cold or hot starts for vehicles

engine tuning (on Mustang dynamometer)

heating, ventilation and air-conditioning (HVAC) testing

physiological/cognitive human trial tests
product validation in extreme temperatures or solar conditions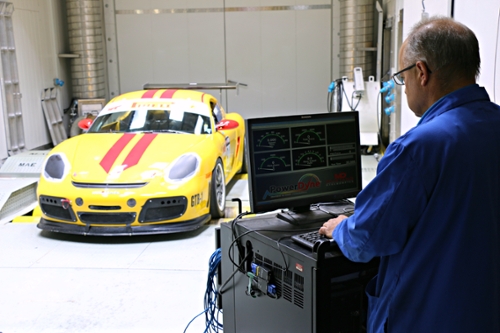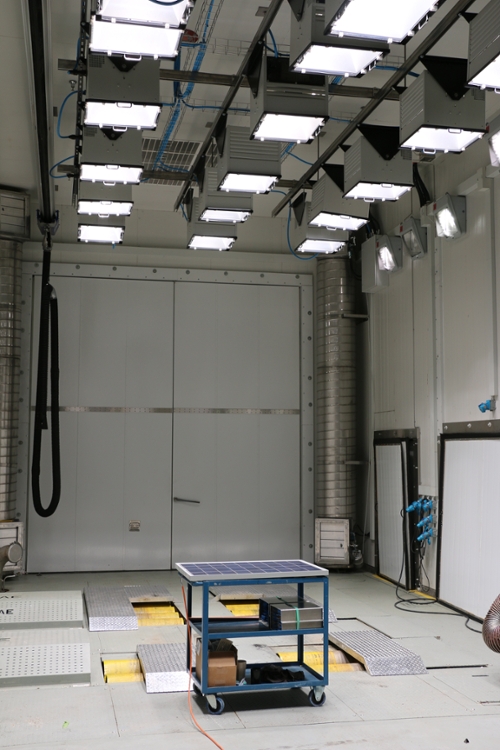 Key features
Exceptionally long test section to permit articulated buses.
Temperature from -40

o

C to +60

o

C and relative humidity from five per cent to 95 per cent.
Chassis dynamometer.
Solar simulation system up to 1,200 W/m

2

  intensity.
Inter-chamber door to small climate chamber, which permits the insertion of a test bench to effect a  'three-chamber' mode.
Complete suite of ancillary systems for customer vehicle operation, including hydrogen and electric vehicle compatibility.
Test section features 
Overall dimensions

Length: 20.8 metres
Width: 6 metres
Height: 5.55 metres

Vehicle entry clearance

3.93 metres wide x 4.49 metres high to outside.
4.26 metres wide x 4.49 metres high to transfer area.

Inter-chamber door clearance

Width: 2.01 metres
Height: 2.01 metres

Primary exhaust extraction system

Dual mode: open-pipe or closed-pipe with back-pressure regulation.
Maximum flow rate: 0.62 kg/sec (8.5 litre, 400 horse-power engine)
Maximum inlet exhaust temperature: 650

o

C.

Secondary vehicle exhaust extraction system

Garage-type open pipe (two pipes).

In-chamber power

Outlets for plug-in vehicles.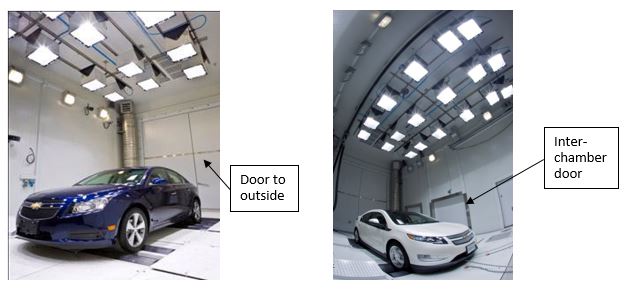 Thermal performance specifications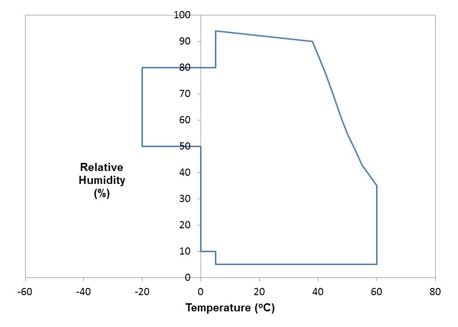 Other performance:
Maximum cooling rate: +60

o

C to -40

o

C in six hours.
Temperature uniformity: σ = 0.33°C (tested at 20°C).
Chassis dynamometer specifications 
Manufacturer and model

Mustang Engineering Co (MD-AWD-500-SE)

Vehicle types

Passenger car, light duty trucks

Axle configurations

front-wheel drive (FWD)
rear-wheel drive
four-wheel drive
all-wheel drive (AWD)

Roll width

940 mm (seven identical per side: five front, two rear)

Clear space between rolls

610 mm (identical front and rear)

Wheelbase range

2,134 to 3,556 mm

Mechanical Inertia

888 kg (front)
983 kg (rear)

Total inertial simulation range

907 to 5,448 kg

Maximum axle load

2,727 kg

Maximum vehicle weight

5,448 kg

Maximum speed

Motor type

Eddy current, power-absorbing only

Nominal maxim power

447 kW (front roll set)
894 kW (total)

Continuous tractive force rating

6,227 N (front roll set)
12,455 N (total)

Features

robot driver
customer-specified drive cycles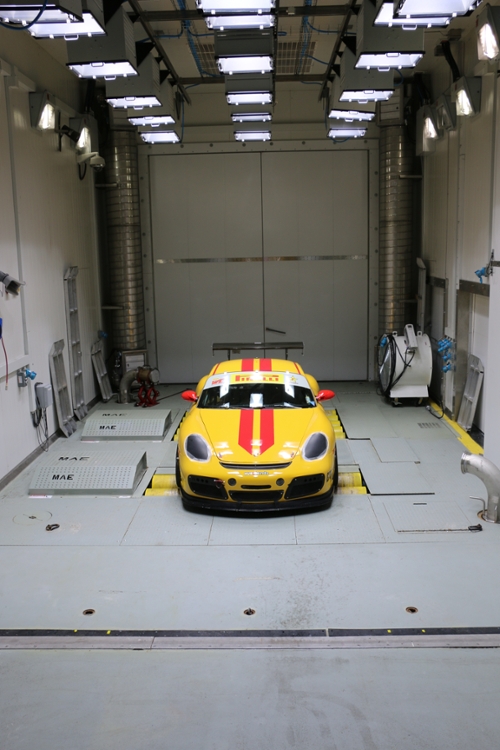 Solar simulation system specifications 
Manufacturer

KHS Steuernagel

Target size

Length: 5.6 metres
Width: 2.5 metres (fixed)
1.5 metre above test section floor

Intensity range

600 to 1,200 kW/m2

Spectrum

ASTM Std E-892

Intensity quality

Uniformity ±10 per cent
Stability ±2 per cent

Lamps