Climatic Four-Poster Shaker
The four-poster shaker encompasses a traditional four-poster design situated in a fully climatic chamber. It tests products with four single-axis vertical actuators that move in an up-and-down motion. It can be programmed to simulate any condition such as a gravel road, high-velocity pot holes or jarring drop simulations. In addition, the room has climatic capabilities, with temperatures ranging from -40˚C to +60˚C and five per cent to 95 per cent relative humidity.
Sectors
Although the four-poster was designed primarily for automotive use, it can be utilized for a wide range of industries due to its climatic capabilities. Sectors include:
agricultural vehicles

automotive
construction vehicles

defense

human performance

motorcycles

motorsport

scooters
unmanned aerial vehicles (UAVs)
Testing examples
Suspension (durability and life cycle) can be tested under different surface simulations, such as gravel roads or pot holes. Suspension optimization is available for motorsports to optimize ride comfort, while structural and squeak-and-rattle tests ensure product quality.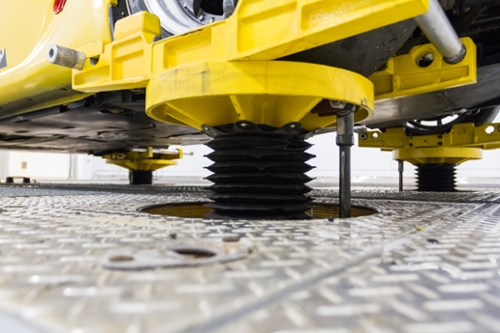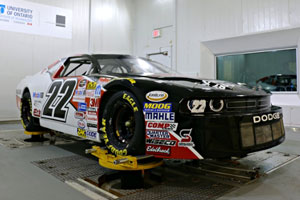 Key features 
Drive-on post feature with automatic positioning system.
Temperatures ranging from

-40°C

 to

+60°C

 and relative humidity ranging from five per cent to 95 per cent.
Dual modes: Road-load simulation and high-flow, high-G.
Complete suite of ancillary systems for customer vehicle operation.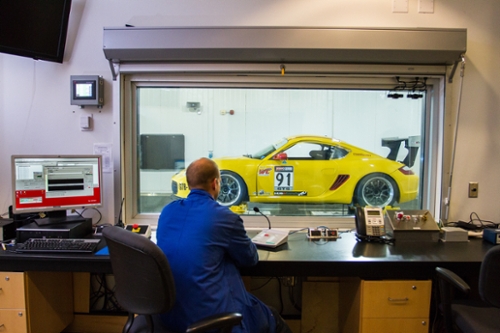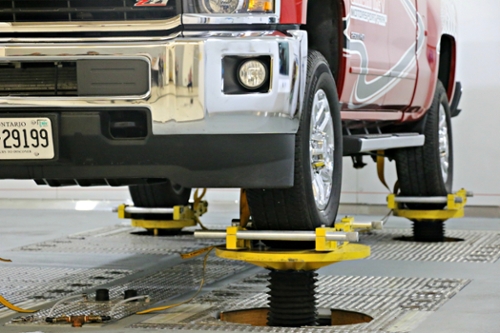 Test section features 
Overall dimensions:

Length: 8.3 metres
Width: 7.2 metres
Height: 5.6 metres

Vehicle entry clearance

Width: 4.26 metres
Height: 4.49 metres

Drive-on wheel pans

Remotely adjustable track and wheelbase

Exhaust extraction system

Garage-type

Safety

Man-down pull cord

In-chamber power

Outlets for plug-in vehicles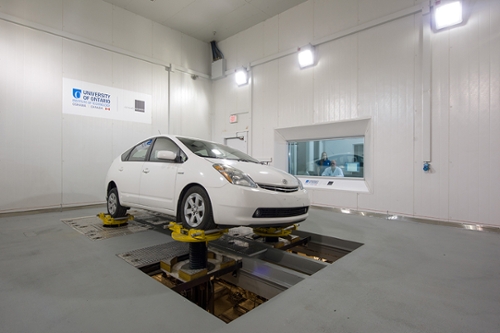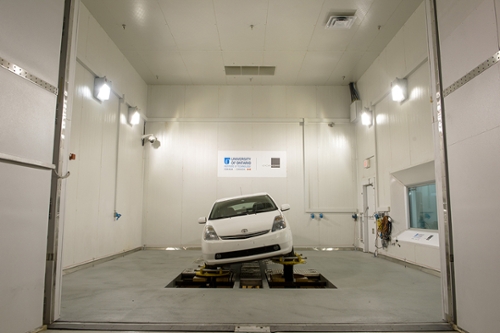 Thermal performance specifications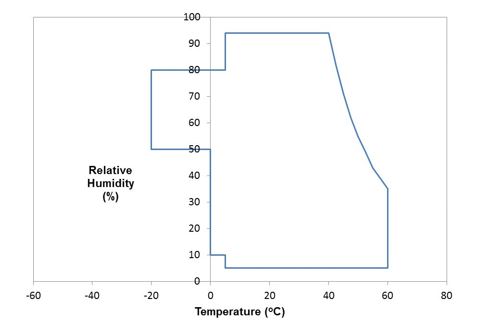 Other performance (measured):
Maximum cooling rate:

+60°C

 to

-40°C

 in six hours.
Temperature uniformity: σ ≤ 1.05 °C over the entire temperature range -40°C to +60°C.
Temperature stability: σ = 0.28°C over the entire temperature range

-40°C

 to 

+60°C.
Four-poster shaker specifications 
| | |
| --- | --- |
| Manufacturer and model | MTS 248.05 |
| Control system | Flextest GT with 793 system software |
| Simulation software | MTS RPC Pro software |
| Actuator force | 50,000N |
| Servovalve flow | 11.3L/s |
| Vehicle types | Passenger car, light-duty trucks |
| Track range | 1,270 mm to 2,110 mm |
| Wheelbase range | 1,572 mm to 4,572 mm |
| Vehicle weight | 4500 kg |
| Range of motion | +/- 150 mm |
| Frequency response | 0.5Hz to 50Hz |
| Maximum acceleration | 19.5 g to 100 g (depending on moving mass) |
| Maximum velocity | 5 m/s |