ACE is a Solutions Provider for the Automotive Industry
ACE offers access to $125 Million Core Research Facility with advanced automotive testing technology and an experienced engineering and technical crew. ACE (originally the "Automotive Centre of Excellence") has conducted thousands of tests with OEM's, Tier 1's, Tech Startups and Researchers from around the world. ACE provides Aerodynamic and Thermal testing in one of the world's most capable Wind Tunnels along with Environmental, Durability and Acoustic Chambers
ACE has continuously expanded our technology and capability and have conducted testing on:
ICE Cars and Light Duty Trucks
EV's
Autonomous Vehicles
Class 6-8 Trucks – Hydrogen, Diesel and Electric
Full Coach Buses
Motorcycles
ATV's
Many other prototype mobility solutions
ACE collaborates with our clients to develop test plans that are efficient and deliver the results you need.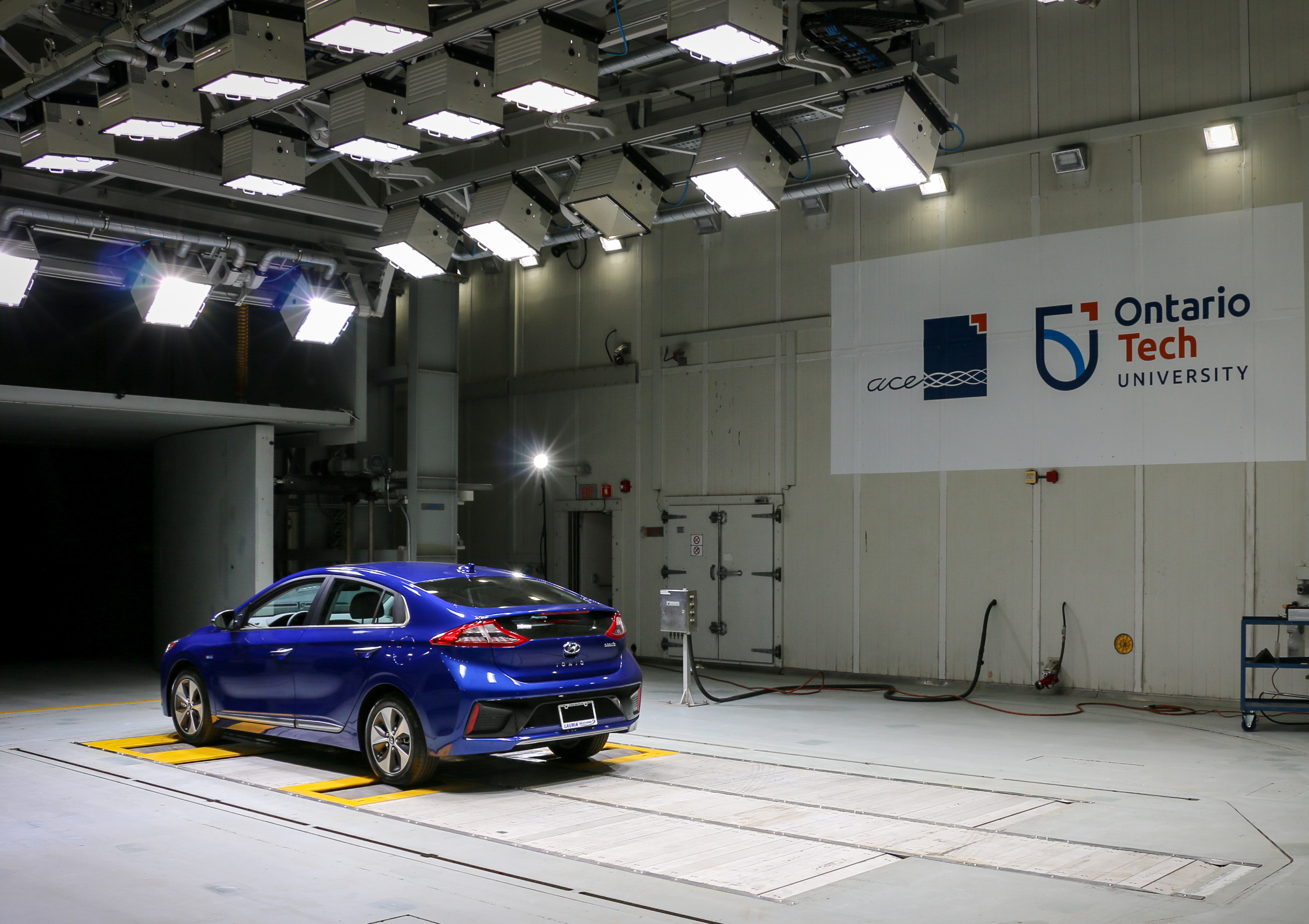 "Typically we work with a client many weeks before testing to make sure we understand their testing and exactly what they want to achieve from their test plan" -Warren Karlson, Senior Engineering Manager, ACE
ACE areas of unique automotive testing capability:
Thermal testing on a dyno and Aerodynamic testing on a Moving Ground Plane in the same airflow
Precipitation Characterization
Rain
Snow
Freezing Rain
Sensor Soiling
350 kw DC Fast Charger in chamber
Wind testing at Yaw (+/- 30o)
Hydrogen vehicle testing
-40o C to +60o C with 5% to 95% humidity control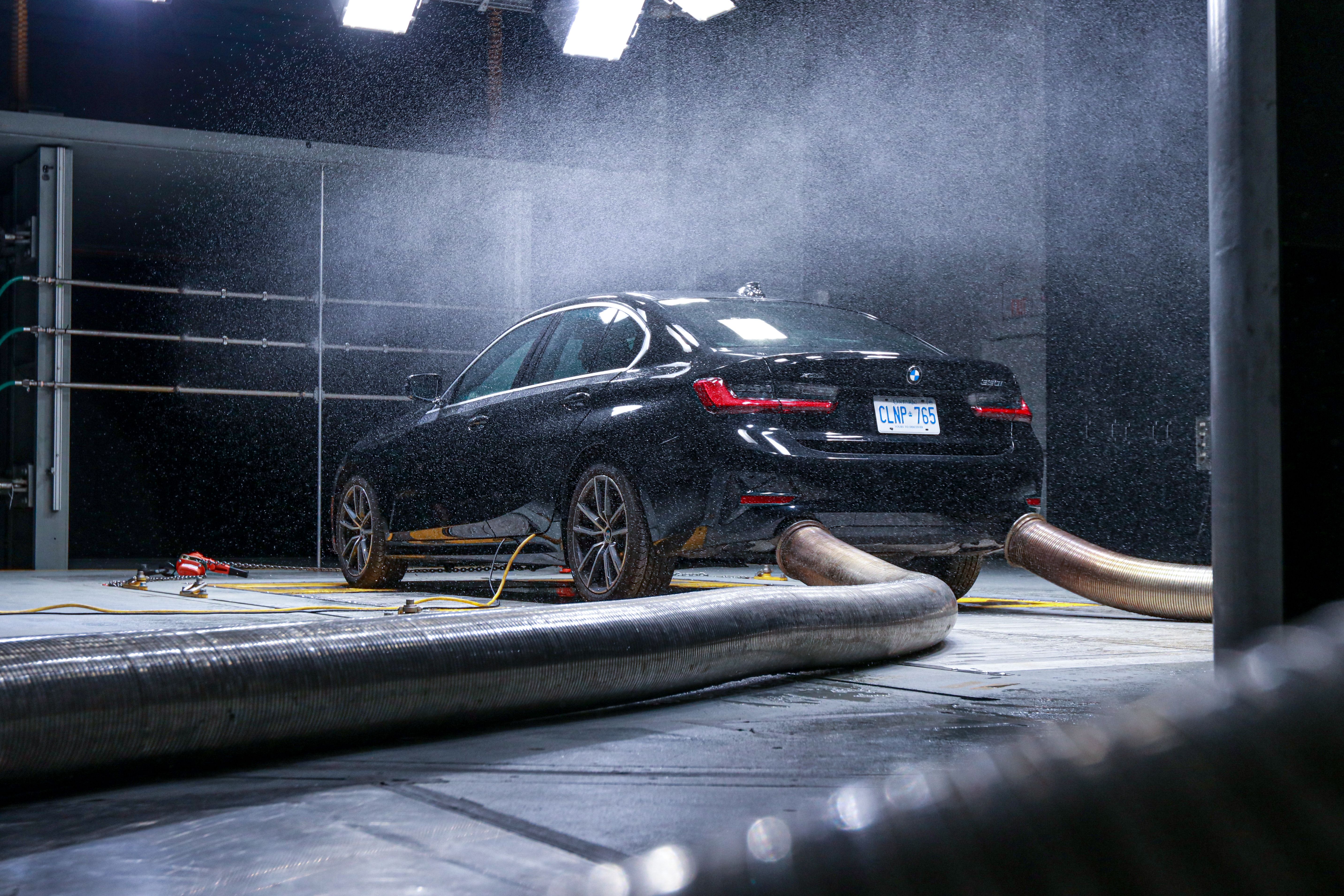 "ACE is not just a facility, it is a solutions provider with technical expertise. As well, we develop trusted partnerships with our clients, so ACE becomes a facilitator of discovery. And in the end, we provide the scientific and defendable objective 3rd party verification of discovery for your product development" -John Komar, Executive Director, ACE
ACE automotive, truck and transit testing

The unique test facilities at ACE help researchers and customers obtain a competitive edge by providing research, advanced development, testing and evaluation for all forms of surface vehicle transportation. ACE's one-of-a-kind climatic test facility is an essential step in ensuring your products are of high quality when they go to market.
ACE's five chambers include:
climatic wind tunnel with yawing capabilities
large climate chamber (solar and dyno)
small climate Chamber
climatic four-poster shaker
multi-axis shaker table located within an anechoic chamber
ACE is available for all automotive companies to test and perfect their products. Contact us for more information.
Typical test types for cars, trucks, buses, and off-road vehicles include:
Aerodynamic development
influence of chassis modifications on vehicle aerodynamics
cross-flow impact in adverse climate conditions
front-end and under-hood airflow characterization
HVAC and engine cooling development
performance under solar loading
underbody thermal management
various traffic patterns
defroster patterns
refrigerant charging
passenger comfort testing
component and system level testing
durability, life-cycle and

noise, vibration and harshness (NVH)

 testing
engine and fuel calibration
hill-climb simulation
snow/rain/freezing rain ingestion and accumulation
cold- and hot-start ability
battery performance under extreme conditions
splash and spray
windshield wiper performance