Aerodynamics of Free Fall
This workshop will help you understand how aerodynamics affect free fall and how advanced wingsuit technology can take advantage of this. The first half of the workshop will take place at the $100 million ACE Climatic Wind Tunnel, where you will learn about wingsuit design and have the opportunity to experience the implications of design first-hand at high wind speeds. The second half of the workshop will take place at the IFLY Indoor Skydiving facility where you will better understand terminal velocity through interactive labs followed by the opportunity to fly!  
Aerodynamicist Martin Agelin-Chaab, PhD, will teach the workshop (inspired and co-designed by Aerospace Engineer Angelo Grubisic). Dr. Agelin-Chaab will lead you through a full day of the science behind free fall and wingsuit jumping. Say goodbye to the classroom: this interactive workshop will have you problem-solving within two world-class wind tunnels.

About the Instructor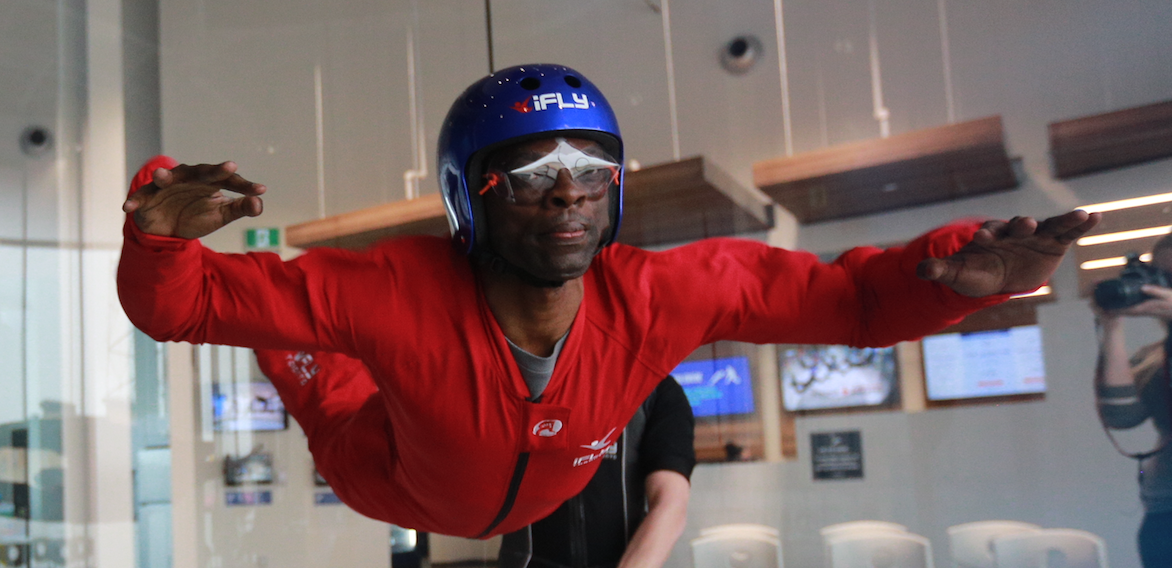 Martin Agelin-Chaab, PhD, Aerodynamicist
Dr. Martin Agelin-Chaab has taught fluid dynamics and automotive aerodynamics at the University of Ontario Institute of Technology for the past six years. He is passionate about teaching and has won teaching awards for his efforts. He also conducts innovative research in bluff body aerodynamics, thermodynamics and energy systems. His research work has been published in high-impact journals.
About the Inspiration
Angelo Grubisic, PhD, Aerospace Engineer and Extreme Sportsman
I'm having to push to achieve what I want. Trying to make the impossible, possible. That is what engineering is about.

Angelo Grubisic

Inspired by his skydiving grandfather, Aerospace Engineer Angelo Grubisic fell in love with the high-risk sport of wingsuit BASE jumping. And he's using his engineering knowledge to apply aeronautical principles to this extreme sport.

Angelo is developing the world's most scientifically engineered wingsuit, capable of smashing records. For the first time ever, he and his team at Southampton University are simulating wingsuit performance and applying engineering design principals to create the ultimate suit.

His goal is to move the sport forwards and set world records for human flight: for the highest altitude, longest flight time, fastest speed and longest distance flown.
Safety Requirements
If you have ever dislocated a shoulder or have a history of heart, neck or back problems, please contact us.
If your weight exceeds 230 lbs (104 kg), please let us know prior to confirming your reservation.
You are not pregnant.
You are not under the influence of alcohol or drugs.
You are not wearing a cast.
You have signed a liability waiver at both ACE and IFLY.